Twitch.TV |

LinkedIn Live |

YouTube


On Going Series
Grey's Academy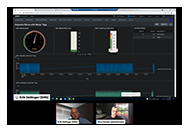 Splunk expert Grey Dziuba brings a fun approach to learning Splunk live the first three Thursdays of each month at 3pm ET/12pm PT. Grey's Academy 101 on the first Thursday helps beginners get started with Splunk. The second week of every month is Grey's Academy 201 for seasoned champions who want to learn about Splunk's new products or uses. Experts should tune in to Grey's Academy 301 on the third Thursday of every month, when we break the mold and challenge assumptions of where Splunk is used. Come along with Grey and explore why Splunk is valuable in problem-solving in your organization.

Behind the Shirt (BTS)

Hosts Josh Atwell and Renee Woods feature some of the fabulous folks from the Splunk community, who discuss industry events and share their stories. Join us on Wednesdays to hear from Splunkers, customers and partners alike.


Data Drivers - Talk Fast, Turn Left


Before .conf21 even kicks off, join the Splunk Data Drivers team as they host conversations at 200 mph! That's right, your favorite McLaren racers and Splunkers will hop into the racing sim for a NASCAR race while sharing all the good stuff we can expect from Splunk's .conf21.
Data Drivers - Lights Out at Splunk .conf21
Buckle up, Buttercup, it's time to go racing! Join us for three global qualifying races on iRacing.com at Circuit of the Americas, culminating in a final championship race on Thursday, October 21. But there's a catch — racers will compete in all qualifying races in the MX-5 cup car, then the championship race field will be split into four groups (partially by qualifying time and iRacing license class, and completely at the discretion of your Data Drivers hosts), which means we will have drivers competing in cars ranging from McLaren's F1 car to Zak Brown's beloved 1987 NASCAR Monte Carlo. We'll level the talent in the field with some awesome cars all while making sure the racing action is nothing short of ridiculous! Tune in for live commentary and data insights powered by Splunk.